Even though we should be doing something nice for our Moms every day, or as often as possible, there just never seems to be enough time. Fortunately we have Mothers Day... a day for showing your mother how much she means to you. This is the one day you don't have an excuse not to spend time with Mom or send her a special gift or beautiful flowers!
So how do you orchestrate the perfect Mother's Day experience? Well we've put together a number of ideas that will ensure Mom is treated to a Mother's Day surprise she will never forget! We've included ideas for buying her a gift, doing something fun and making something nice for her. Pick just a few of the ideas, or do them all, it's entirely up to you...
Buy Her Something Nice
Mothers Day Flower Ideas
Flowers are one of the best ways to express your feelings. If you've never sent your mom flowers before, then this is a great time to start, as it will come as a wonderful surprise she will always remember. Don't know what flowers to send? Well, if you are sending mom flowers to her office, we recommend a lovely bouquet in a vase, a basket or arrangement. This way they come in a container she can keep in the office, and they can easily be transport home.
If you are on a tight budget, a mixed bouquet of flowers will not only delight mom, but you'll also get great value for your money. For the more eccentric, creative moms, call your florist and ask her to make up something special for you with moms favourite flowers and colours! Remember, no matter how big or small the bouquet, it's the thought that counts.
Gifts & Hampers
Believe it or not, some people don't like flowers and find it impractical to give or receive them. In this case, they might prefer a gift or a hamper. If this sounds like your Mom, no need to worry, as there are nice options for her too. Consider sending her a fruit and nut hamper, nougat hamper or chocolate hamper. If you prefer something that will last longer, a bottle of her favourite perfume, will do the trick.
Do Something Nice
Arrange a special surprise date for you and mom. For example, if you live in different cities, make a reservation at a restaurant for breakfast, high tea or lunch, or even a day at the spa. Hop on a plane and whisk her away to your secret destination. To make it extra special, get all your brothers and sisters to join you. If you live close to your mom, plan a picnic in the park, at the beach or cook her a nice lunch. Alternatively, organise a braai/barbeque with the whole family.
Make Something Nice
DIY Mothers Day Card
Making your own Mothers Day card for Mom is a rewarding gift in more ways than one. It will give you a sense of accomplishment because it's something you made yourself, and it's a gift mom will cherish forever. Moms, get the kids together to make cards for Granny. Not only is this good bonding time with your children, but it will be loads of fun too! And by the way, this one is not only for the girls... Dads, jump in, grab the scissors, paper and glue, and help the kids make mom a special Mother's Day card too!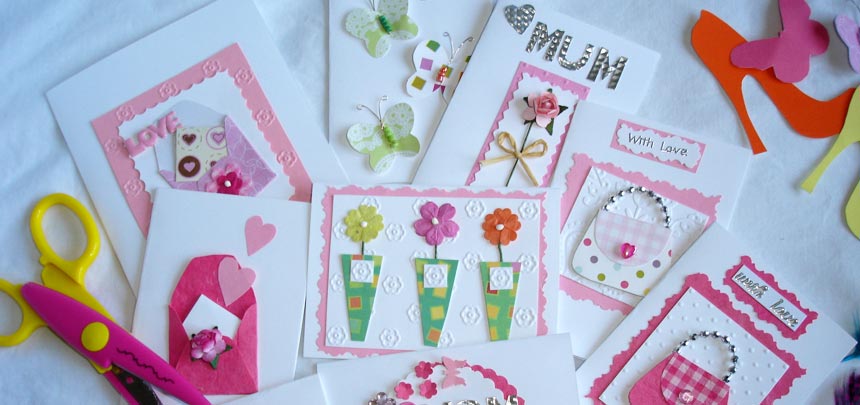 To make it easier for you, we've put together a tutorial with instructions on how to make very cute little Mother's Day cards. We've even included templates you can download for free with various shapes and patterns to get you started. Click here for our Mothers Day card tutorial.
So, get creative! There's no right or wrong way in doing this, it's all about the time, effort and love that went into making it.
You should also take a look at our latest Mothers Day gift ideas and tips for ordering online, and if you have any creative Mother's Day gift ideas of your own, we'd love to hear about them in the comments below... and Mom's, let us know how you were spoiled by your loved ones this Mother's Day.
Did you enjoy this article?
Share it with others
Sign up for our free updates
Your details are safe with us, and will never be sold, rented or given away!